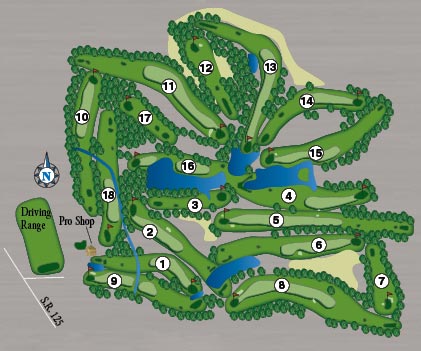 Friendly Meadows is a challenging but fair golf course known for having the best and truest greens in the entire tri-state area. Great greens along with Zoysia fairways provide consistent playing conditions that are far better than the other courses in the area.
With quality turf blanketing the entire course and the beautiful trickle of Clover Creek meandering throughout this tightly wooded and secluded layout, Friendly Meadows provides a great test of golf combined with an amazingly pristine and serene layout.
Measuring 6,620-yards from the championship tees and a more manageable, 6,020-yards from the tournament tees, Friendly Meadows offers a fair game for players of all levels. With a rating of 72.0 and a slope of 129, from the tips, it's obvious that Friendly Meadows rewards accuracy and course management over the ability to knock it off the planet! Straight, accurate and smart is the way to play Friendly Meadows.
Turning 50 years old in 2023, the golf course has had plenty of time to grow in, and because of its previous life as a dairy farm you can rest assured there is plenty of mature wood lots narrowing these fairways. Game on!